Rooting depth distribution in the bog.
Initial root biomass depth distribution (along with peat characteristics and chemistry) was determined prior to initiation of SPRUCE experimental treatments by taking ~3-m deep soil cores in hummock-hollow microtopography in each experimental plot in August, 2012. 

Rooting depth distribution in the bog is extremely shallow, with most living roots found in surface peat. Indeed, we found that shrub roots below the average summer water table level were highly-preserved, but dead, roots with a 14C age of up to 5000 years!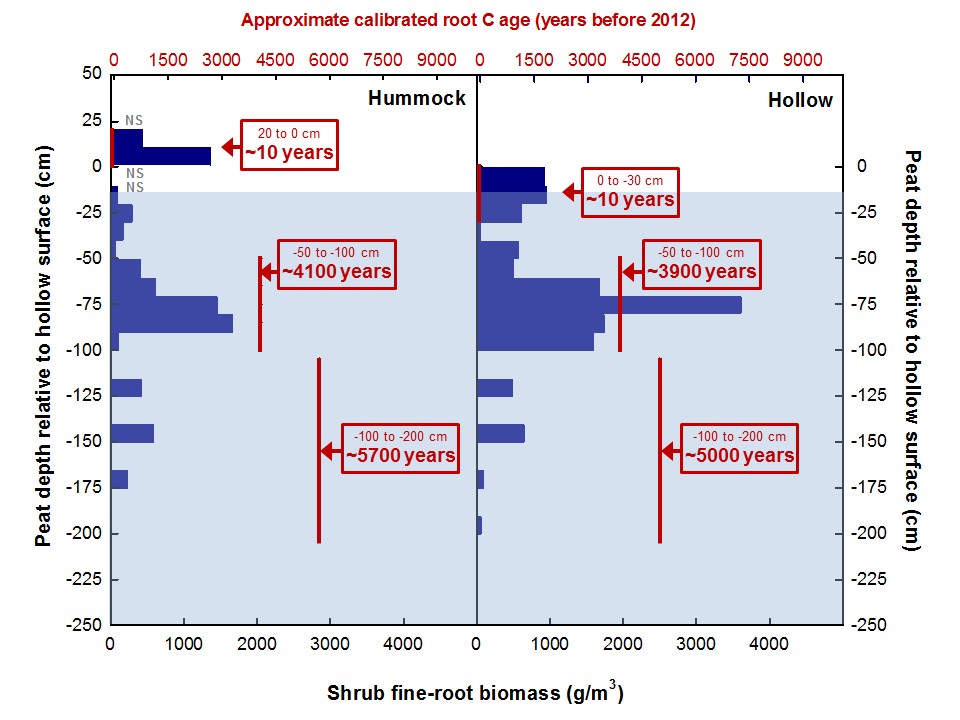 Iversen CM, Childs J, Norby RJ, Ontl TA, Kolka RK, Brice DJ, McFarlane KJ, Hanson PJ. 2018.Fine-root growth in a forested bog is seasonally dynamic, but shallowly distributed in nutrient-poor peat. Plant and Soil 424: 123-143.
Griffiths NA, Hanson PJ, Ricciuto DM, Iversen CM, Jensen AM, Malhotra A, McFarlane KJ, Norby RJ, Sargsyan K, Sebestyen SD, Shi X, Walker AP, Ward EJ, Warren JM, Weston DJ. 2017. Temporal and spatial variation in peatland carbon cycling and implications for interpreting responses of an ecosystem-scale warming experiment. Soil Science Society of America Journal 81: 1668-1688.

Hobbie EA, Chen J, Hanson PJ, Iversen CM, McFarlane KJ, Thorp NR, Hofmockel KS. 2017. Long-term carbon and nitrogen dynamics at SPRUCE revealed through stable isotopes in peat profiles. Biogeosciences 14: 2481.

McFarlane KJ, Hanson PJ, Iversen CM, Phillips JR, Brice DJ. 2018. Local spatial heterogeneity of Holocene carbon accumulation throughout the peat profile of an ombrotrophic northern Minnesota bog. Radiocarbon 60: 941-962.

Tfaily MM, Cooper WT, Kostka J, Chanton PR, Schadt CW, Hanson PJ, Iversen CM, Chanton JP. 2014. Organic matter transformation in the peat column at Marcell Experimental Forest: Humification and vertical stratification. Journal of Geophysical Research: Biogeosciences  119: 661-675.
Iversen CM, Hanson PJ, Brice DJ, Phillips JR, McFarlane KJ,  Hobbie EA, Kolka RK. 2014. SPRUCE Peat Physical and Chemical Characteristics from Experimental Plot Cores, 2012. Carbon  Dioxide Information Analysis Center, Oak Ridge National Laboratory, U.S. Department of Energy, OakRidge, TN, USA.